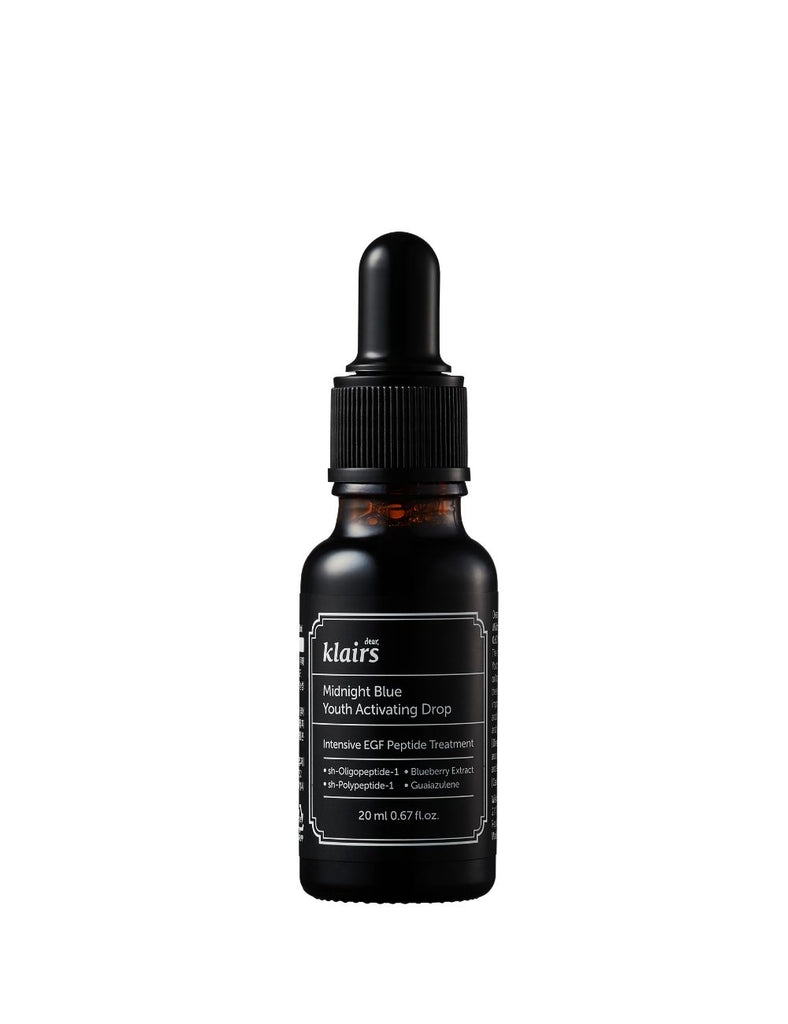 KLAIRS
Midnight Blue Youth Activating Drop
R 525.00
If you're looking for a soothing and anti-ageing product, this blue hued powerhouse is the one for you with its ability to repair damaged skin and go to work on fine lines and signs of ageing. 
Featuring a concentrated anti-ageing formula that includes EGF and bFGF, high quality peptides known for their ability to speed up the skin's ability to regenerate and heal, aid in the synthesis of collage, delay signs of ageing, and strengthen the skin's barrier, which results in firmer and more elastic skin. The addition of Guaiazulene, responsible for the blue shade of the serum, means this serum is also fantastic for soothing and repairing skin. 
What it does: Anti-ageing, soothing, skin repairing serum
Who it's for: Anyone who would like to address the signs of ageing; appropriate for all skin types including sensitive
20ml
After cleansing, apply a few drops to your face and gently pat in. You can also apply specifically to areas of concern such as fine lines and dull areas. Folow with the rest of your routine. 
RH-Oligopeptide- 1, RH-Polypeptide- 1, Butylene Glycol, Vaccinium Angustifolium (Blueberry) Fruit Extract, Sorbitan Sesquioleate, PEG-60 Hydrogenated Castor Oil, Chlorphenesin, Guaiazulene, Ethylhexylglycerin, Adenosine.