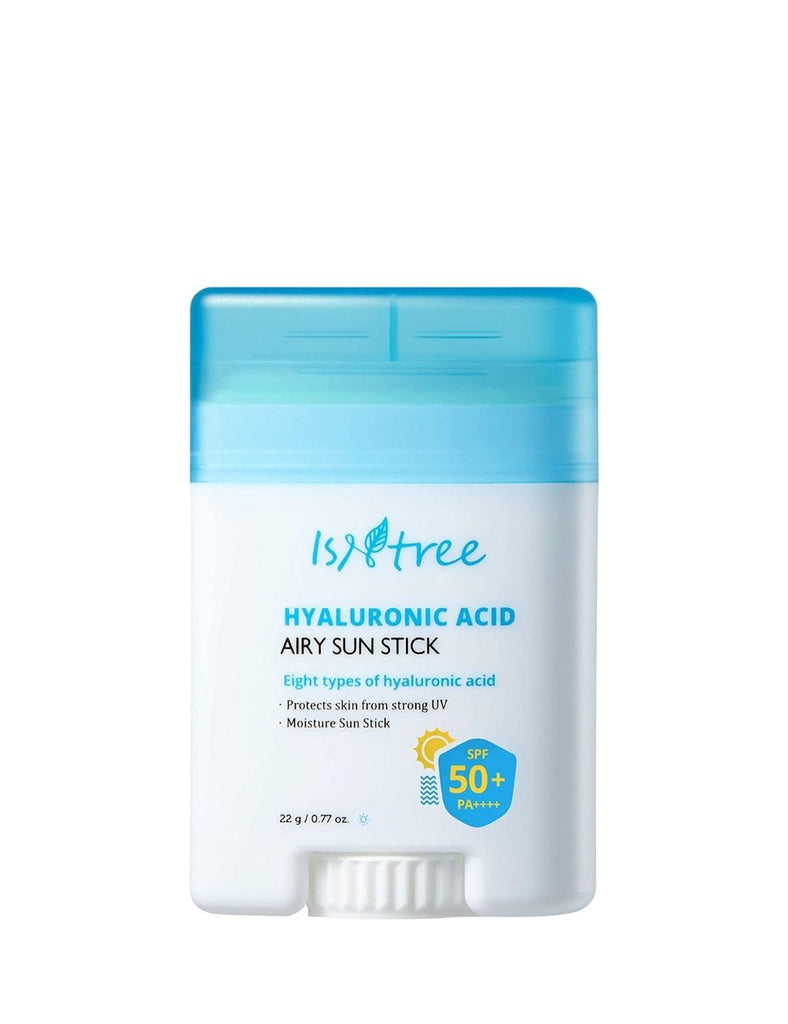 ISNTREE
Hyaluronic Acid Airy Sun Stick SPF 50 PA++++
R 475.00
This innovatively-designed and packaged SPF stick from Isntree is ideal for on-the-go touch ups when you're out and about. We keep one on us at all times for those sun exposure 'emergencies' - when stuck in traffic (don't forget your hands!) or otherwise caught outside. In the Covid-era, it's also great to have a hands-free application option as you can apply directly from the stick. The teardrop shape ensures you can reach all curves of the face.
A lightweight SPF with chemical filters, this sunscreen glides on easily without any stickiness or white cast. Eight different molecular weights of Hyaluronic Acid are included for hydration, while plant extracts such as Astaxanthin, rich in Polyphenols, provide an antioxidant boost. With Niacinamide for brightening and Adenosine to help tackle any signs of ageing, this is more than just a sun protection product. 
What it does: Provides broad spectrum sun protection, hydrates, and brightens; no white cast; ideal for travel or to keep in your bag
Who it's for: Works for all skin types; lightweight but hydrating
22g
Apply as the final step of your morning skincare routine. Swipe over all areas of face and neck. Reapply every two hours if out in the sun. 
Water, Polyethylene, Propylheptyl Caprylate, C12-15 Alkyl Benzoate, Homosalate, Silica, Ethylhexyl Methoxycinnamate, Neopentyl Glycol Diheptanoate, Vinyl Dimethicone / Methicon Silsesquane Cross Polymer, Ethyhexyl Salinoylaxylate, Hydroxybenzine, Ethylhexyl Bisiconzyl Benzoxylate, Hydroxybenzine, Ethylhexyl Hexylphenxybenzine, Synthetic Glycolbenzoate, Hydroxybenzine, Synthetic Glycolbenzoxybenzine, Methyl Methoxyphenxybenzine, Vinyl Benzoxylbenzoate ozokerite, polyglyceryl-4 diisostearate / polyhydroxystearate / sebacate, pinus pinaster bark extract, bambusa vulgaris water, mesembryanthemum crystallina extract, hibiscus sablycerinide, olive extract,) Fruit oil, Laminaria ients Japonica extract, Ulmus Davidiana root extract, Aloe leaf extract, Barberry leaf extract. Viola Mandshurica flower extract. Dioscorea Japonica Root Extract, Polyglycery-2 dipolyhydroxystearate, polyurethane-11, Glyceryl caprylate, Sorbitaansesquioleaat, Sodium hyaluronate, Adenosine Astaxanthin, penty lene glycol, Natriumacetyleerd hyaluronate, Sorbitan sesquioleate, Sodium hyaluronate, Adenosine Astaxanthin, pentylene glycol, Natriumgeacetyleerd hyaluronate, Sodium-hyaluronzuurhyaluronaat, Propyl-urylpropylester , Hydroxypropyl Sulfate Hydrolyzed Hyaluronic Acid, Hyaluronic Acid, Trethoxycaprylysilane, Caprylyl Gycol, Ethylhexyglycerin, 12-Hexanediol