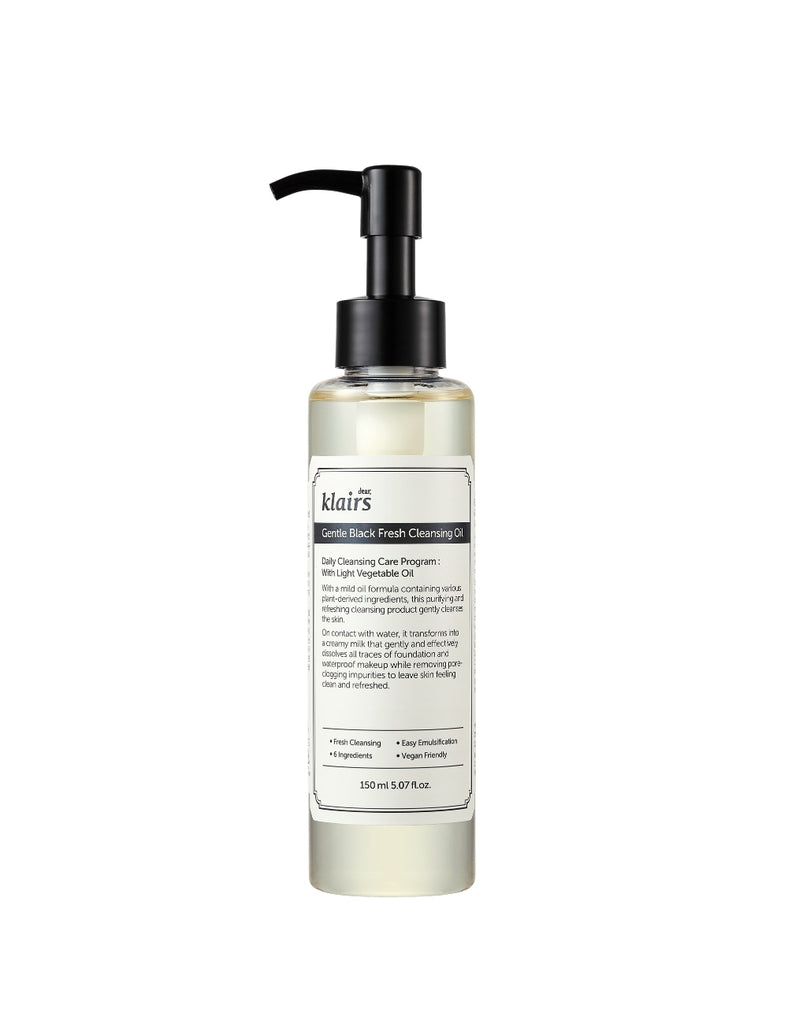 KLAIRS
Gentle Black Fresh Cleansing Oil
R 455.00
Just as effective as the original cleansing oil from Klairs, the new Gentle Black Fresh Cleansing Oil is a lightweight, fragrance-free dream, ideal for those with oily or sensitive skin. 
This cleansing oil works as a great first cleanse in the evening, removing all makeup, oil, and dirt, while gently massaging away dead skin cells and controlling sebum production. With simple, gentle, and sensitive skin-friendly ingredients such as Sunflower Seed Oil, Grape Seed Oil, Jojoba Seed Oil, and Black Currant Oil, it leaves skin soft and supple after cleansing. These oils are also rich in Vitamin A, B, and C, which help to fight free radical damage and keep skin healthy. 
What it does: Removes all makeup, dirt, and sebum; lightweight texture ensures no heavy or oily residue; leaves skin clean and supple
Who it's for: Those with combination to oily skin, or those who prefer a lightweight, fragrance-free cleansing oil
150ml

Mini version (30ml) available here.

As the first step of your evening routine, dispense an appropriate amount onto dry palms, and massage onto dry face to remove makeup, SPF, and sebum. Add a few drops of warm water to emulsify, then rinse off. Follow with a gentle second cleanser of your choice, and the rest of your routine. 
Helianthus Annuus(Sunflower) Seed Oil, Caprylic/Capric Triglyceride, PEG-20 Glyceryl Triisostearate, Vitis Vinifera (Grape) Seed Oil, Simmondsia Chinensis (Jojoba) Seed Oil, Ribes Nigrum (Black Currant) Seed Oil