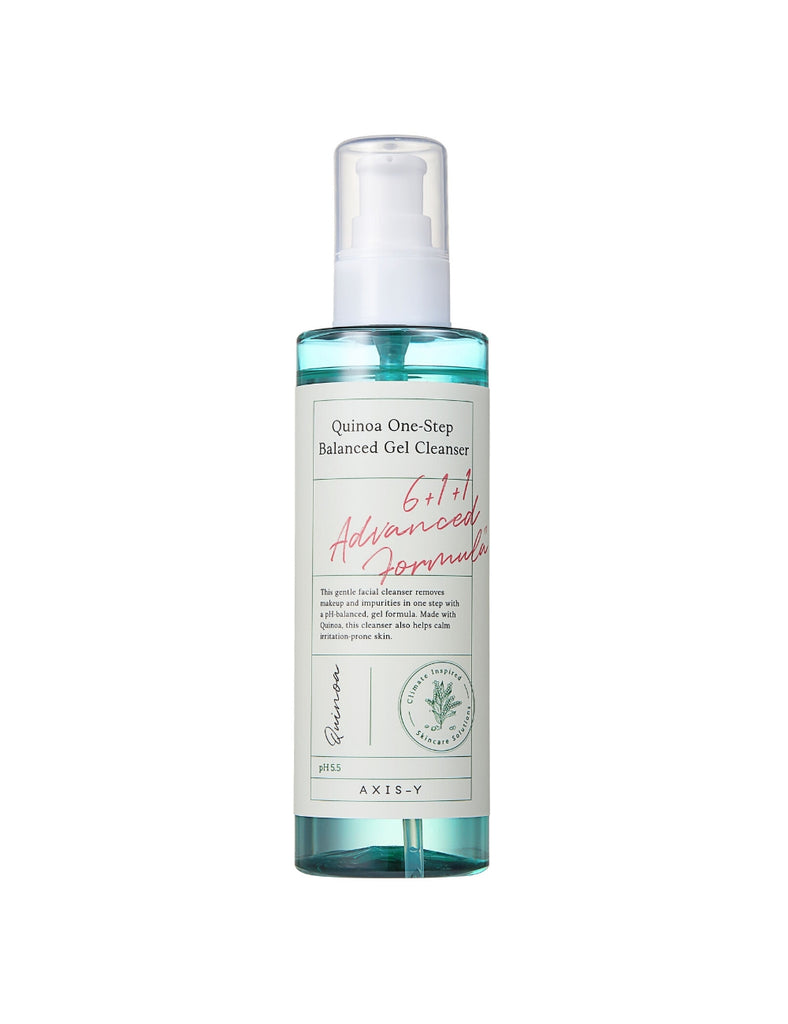 AXIS-Y
Quinoa One Step Balanced Gel Cleanser
R 395.00
The Axis-Y product that started it all for us, we first became interested in the brand after trying this amazing cleanser. Going against the most common K-beauty cleansing philosophy, this one step cleanser is ideal for those who don't enjoy using oil or balm cleansers or who only wear light / no makeup, though it can also be used as the second step in the standard Korean skincare routine. 
This gentle cleanser works to remove makeup, sebum and dirt from pores in one step, while delivering a gentle and hydrating wash at your skin's natural pH. Formulated around the key ingredient, the superfood Quinoa, which neutralises free radicals due to its vitamin E content, while also supporting the synthesis of collagen and elastin for supple, smooth skin.
The inclusion of high-in-antioxidant ingredients such as Centella Asiatica, Calendula, and Green Tea ensure that this cleanser helps to soothe and calm skin while boosting your skin's natural recovery process, speeding up the healing of blemishes and addressing sun damage.
What it does: gently cleanses light makeup and skin at a skin-healthy pH; leaves skin feeling hydrated and soft
Who it's for: Everyone, either as a single one-step cleanser or as a second cleanse / morning cleanse for those who prefer to double cleanse
180ml
Apply two to three pumps and massage into face. Add lukewarm water and massage until all makeup and debris is gone; rinse with lukewarm water.
Water, Decyl Glucoside, Sodium Cocoyl Glutamate, Chenopodium Quinoa Seed Extract, Glycerin, Sodium Lauroyl Glutamate, Betaine, Glycine Soja (Soybean Oil),Melaleuca Alternifolia (Tea Tree) Extract, Chlorphenesin, Hydroxyacetophenone, Ethylhexylglycerin, Camellia Sinensis Leaf Extract, Humulus Lupulus (Hops) Extract, Ocimum Tenuiflorum Extract, Centella Asiatica Extract, Calendula Officinalis Flower Extract, Prunus Amygdalus Dulcis (Sweet Almond) Fruit Extract, Citric Acid, Geranium Maculatum Oil, Allantoin