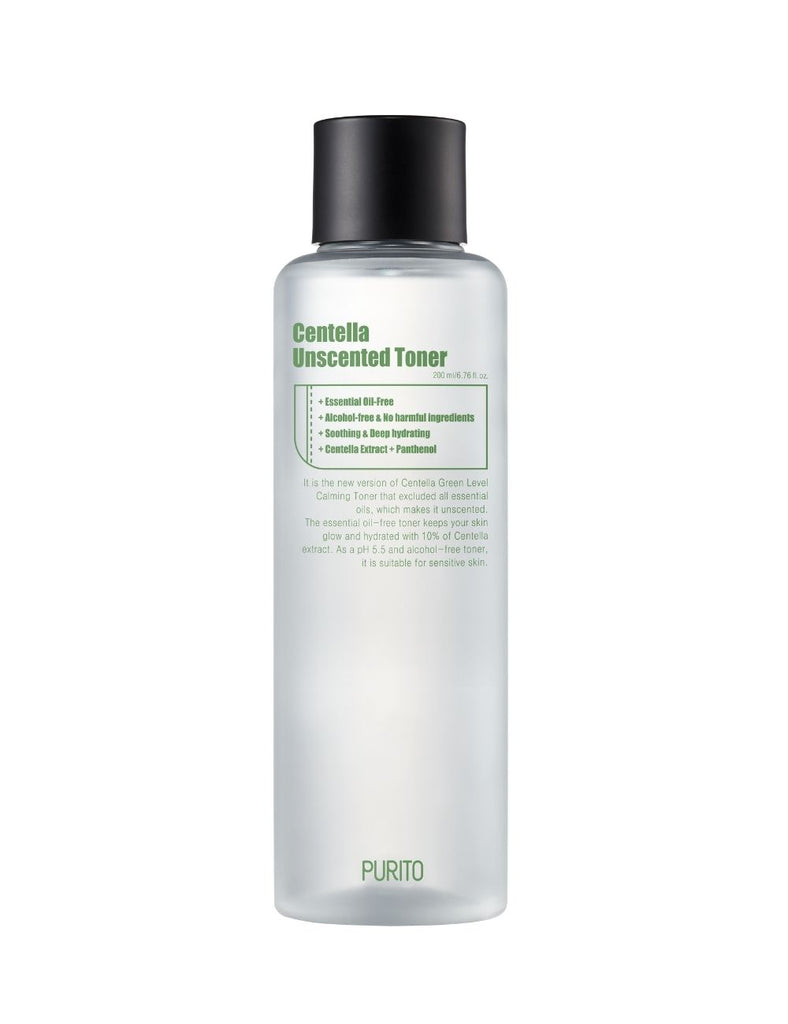 PURITO
Centella Unscented Toner
R 465.00
An upgraded version of the original Green Level Calming Toner – all the goodness of the original but without essential oils!
Designed for those with sensitive skin, this toner contains 10% Centella Asiatica, Madecassoside, and soothing Panthenol to help calm and repair tired or stressed skin. This low pH toner (5.5) balances out the pH level of the skin and ensures your skin is perfectly calmed and hydrated for the rest of your skincare routine.
What it does: Soothes, calms, hydrates, repairs the moisture barrier
Who it's for: Great for all skin types, especially sensitive or inflamed skin, or a compromised barrier 
200ml
Mini version (30ml) available individually and part of the Discovery Kit.
Pour a few drops into hands and press into face after cleansing; can be used morning and / or night.
Water, Centella Asiatica Extract (strengthens skin barrier), Butylene Glycol (humectants), Pentylene Glycol (skin-conditioning agents), Dipropylene Glycol (humectants), 1,2-Hexanediol (stabilizers), Trehalose (humectants), Sodium Hyaluronate (natural moisturizing factor/ humectants), Madecassoside (strengthens skin barrier), Asiaticoside (strengthens skin barrier), Asiatic Acid (strengthens skin barrier), Madecassic Acid (strengthens skin barrier), Panthenol (strengthens skin barrier), Carbomer (viscosity increasing agents), Allantoin (skin protectants), Arginine (skin-conditioning agents), Portulaca Oleracea Extract (skin-conditioning agents), Ethylhexylglycerin (skin-conditioning agents), Disodium EDTA (stabilizers)